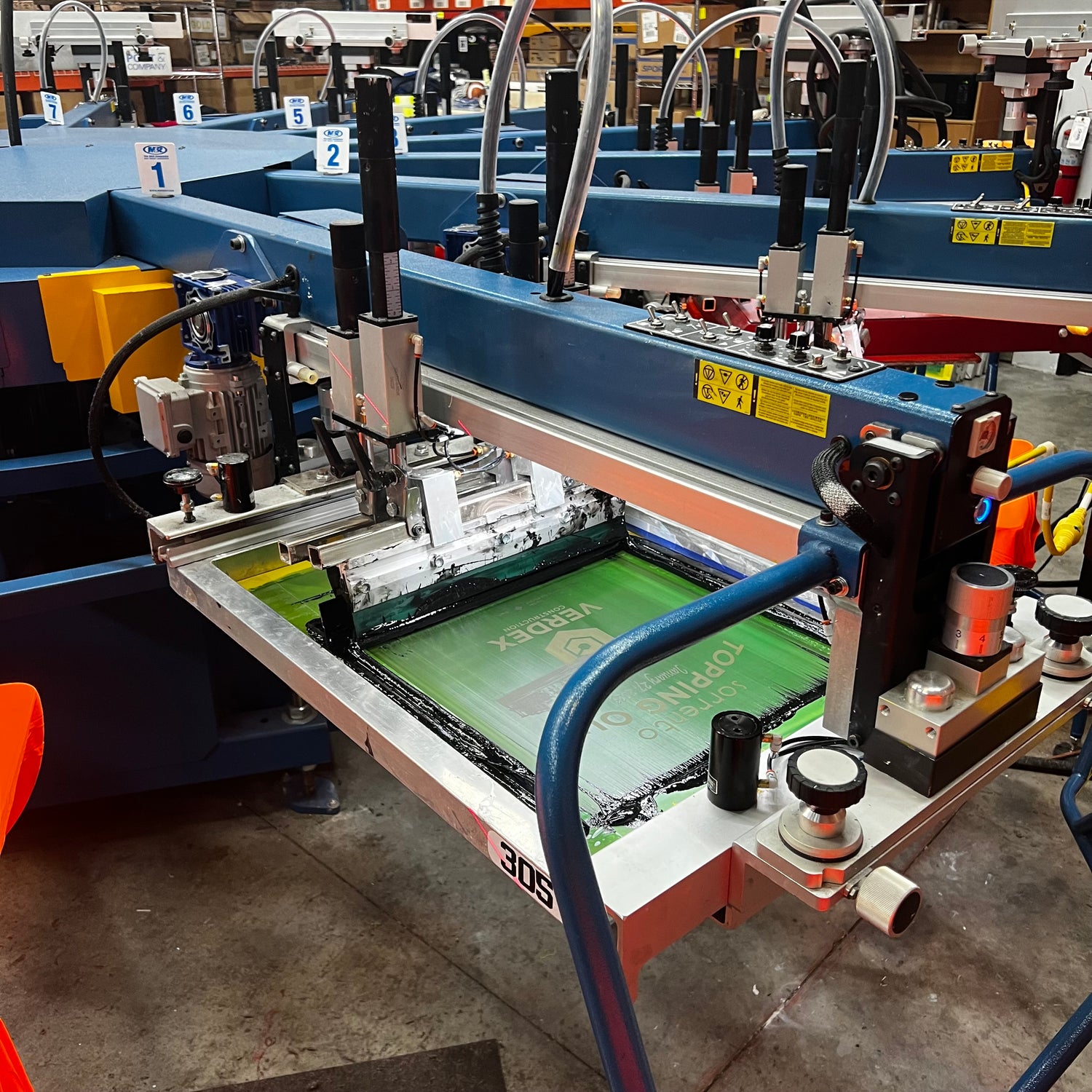 Contract Printing & Embroidery
We also offer Contract Printing and Embroidery services here at Red's Team Sports (RTS)! RTS is conveniently located in Tampa, FL to make it easy and quick shipping is available to any of your customers you may have here in the Southeast Region of the United States. We take pride in giving you competitive contract screen printing and embroidery prices, excellent screen printing and embroidery quality, a full-service art department that includes in house digitizing and top-notch customer service.  Contact us today to see how we can help you serve your customers and help grow your business!!
Let us handle your production… this allows you to focus 100% on your customer relationships and achieve better sales!!
Contact Us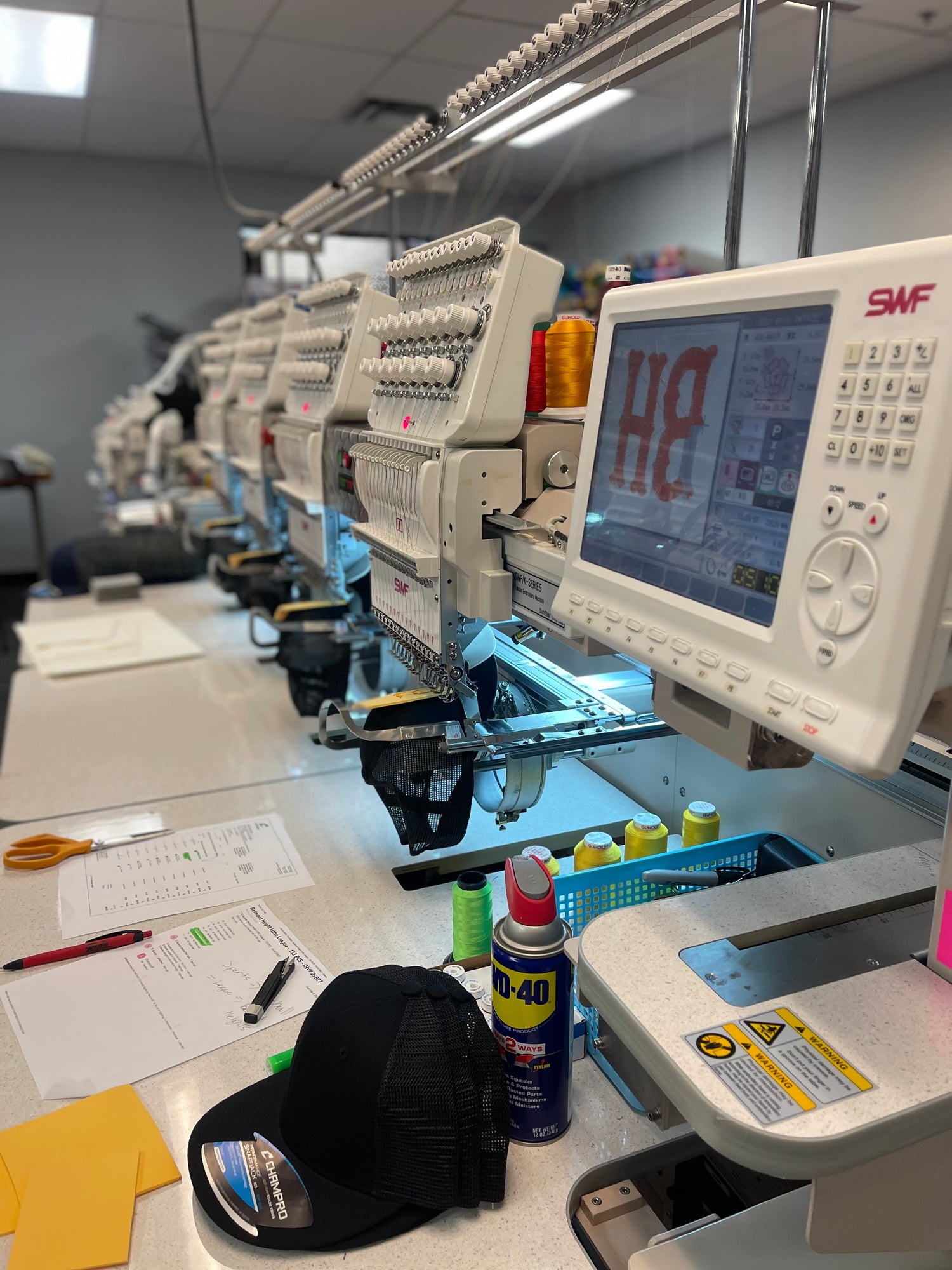 Equipment
We use the Best equipment in the business to assure the quality of your produced products comes out the best.  We use all M&R presses, including our newest 14 color M&R Cobra. We are capable of safely printing up to 10 colors via simulated or spot process. With all this modern technology it allows us to hold better details and get better print qualities for you to provide your customers with the best product possible.
We also use all SWF embroidery equipment.  Combined with our in-house digitizing and our Magnetic hoops that reduce marks on hooped materials.  Our embroidery production is some of the best in the industry. We've even been complimented by some of the biggest companies in our industry regarding our quality, such as Pacific Headwear!
Art Requirements
Prefered File Types
Vector art in .ai .eps or .pdf are the preferred file types.  They are scalable without quality degradation and have the highest quality output.  All type & strokes must be converted to outlines. No raster elements may be present to meet this standard.  If raster images are present, they must be embedded and of high enough resolution to meet the intended print output. Any art files with raster images must be submitted to determine print readiness.
Corel Draw & Freehand files must be exported as .eps files. All files should have the graphics and fonts converted to outlines/curves. Placed or linked images are not acceptable.
Raster File Types
Raster art file types, such as .psd, .jpg, .tif, .png may be used for some types of printing but must meet print requirements of the intended output.  These file types must be submitted to determine print readiness. Any raster graphics submitted without transparent backgrounds may require art services to make print ready.
Microsoft documents, such as Word, Powerpoint and Publisher, are not acceptable as print-ready but may be used as layouts if print ready art needs to be created.  
Pricing
Pricing is available by request only.  Our contract pricing is only available to members of the promotional products industry and approved resellers.  We do not offer contract pricing nor do we share our discounted contract pricing with the end user. Please contact us directly to receive pricing structures for our contract services.
Ordering Process/Tips
Please email all orders and requests to quotes@redsteamsports.com.com.  Please include Purchase Order and Art Files all in one email together.  Also always reference PO number in subject of all emails and any correspondence along with the order.  
Please send all product to the following address and MAKE SURE YOUR PO NUMBER IS ON THE LABEL.
Red's Team Sports
C/O Contract Services Department
PO Number that matches Purchase Order
4542 Eagle Falls PL
Tampa, FL  33619
Reference the exact PO# you submit online to us.  If it does not match up your order can be delayed. Please let us know if you are combining different PO's in one shipment so we know how to find your product once it's received.   
When your order is submitted online to us, you will immediately receive an order confirmation that it has been received. A proof and detailed estimate will follow within 48-72 hours on average to confirm cost and ensure everything provided to us is accurate.